Welcome
Welcome to Cinetix Productions!

Cinetix Productions is a video and photos production company located in Montreal specializing in commercials, corporate videos, wedding videos and wedding photos, music videoclips, video editing, fashion photos, portraits and events.
Cinetix Productions provides a total digital capture & editing solution for your event.
Cinetix Productions offre un service total en matière de tournage et de montage vidéo pour tout type d'événement.

About Us
Services
Video & Photos Production

Commercials
Corporate Videos
Wedding Videos
Music videoclips
Video Editing
Fashion Photos & Portraits
Events: Baptisms, Graduations, Party
Wedding Photos
Office Christmas Party
Weddings Photos & Videos Packages
News
NEW Dolly with Boom Arm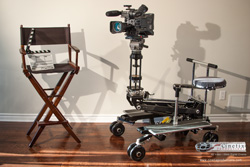 Now available, shooting in 35mm 4k digital cinema.
Details